Unfortunately, due to the COVID-19 situation, the Laibach 4.0 Anniversary event is now cancelled and postponed. This is the official Announcement from LAIBACH
We regret to announce that due to the COVID-19 situation we have had to cancel and postpone the Laibach 4.0 Anniversary event that should be happening on 23 October 2020, in Delavski Dom Trbovlje. A coronavirus epidemic has been declared in Slovenia on 19 October 2020, which means that all public venues and cultural institutions, including Delavski Dom Trbovlje, are closed until further notice. We are looking into alternative options, but if nothing comes up, the Anniversary event will be postponed until 2021. All tickets purchased for the Live Stream will be refunded in the next 72 hours.
Laibach message about the 40th Anniversary Special Event in Delavski dom Trbovlje
Dear Miserable Ones, the Wretched Poor, the Dispossessed, the Victims of Time, Dear Friends,
As you probably know by now, Laibach is marking 40 years of existence this year. There has already been series of anniversary events (two ongoing exhibitions and two concerts in Ljubljana), but the main event will be held on October 23rd in 'Delavski Dom Trbovlje' – where it actually all started 40 years ago. 
PHYSICAL AUDIENCE NOT ALLOWED AT THE SHOW
Unfortunately, due to the increasingly problematic viral situation and thus more stringent Covid-19 restrictions, a physical audience will not be allowed at the venue, and we cannot do much about that. Not even the limited number of 100 people that we were even recently hoping for.  For all of you who have already bought tickets – your money will therefore be refunded at once. You can instead join everyone else for the live streaming of the event.

WATCH THE EVENT VIA LIVE STREAMING

All of you who won't be able to be with us in Trbovlje in vivo will have the option of watching the complete event (and much more!) via live streaming.  

We must point out that professional-quality live streaming, with good sound and picture, comes with high production costs; therefore, we have to charge for it. According to the research we recently carried out, most of you are interested in streaming the entire event (approx. 7 hours) with additional material, so this is what we are going to offer you. There will be plenty of additional material included in the streaming, recorded especially for this occasion. We will reveal to you the journey of Laibach through selected places in Ljubljana and Trbovlje that were of special importance to the group's establishment. 

The streaming of the event on 23 October 2020 will start at exactly 18:00 Central European Time.  Streamed content will be available for you to watch for 72 hours. 
THE LIVE STREAMING TICKET INCLUDES A LAIBACH WTC DISCOUNT
Everyone ordering a streaming link will be able to apply a 10% discount to all items when shopping at the WTC until the end of 2020.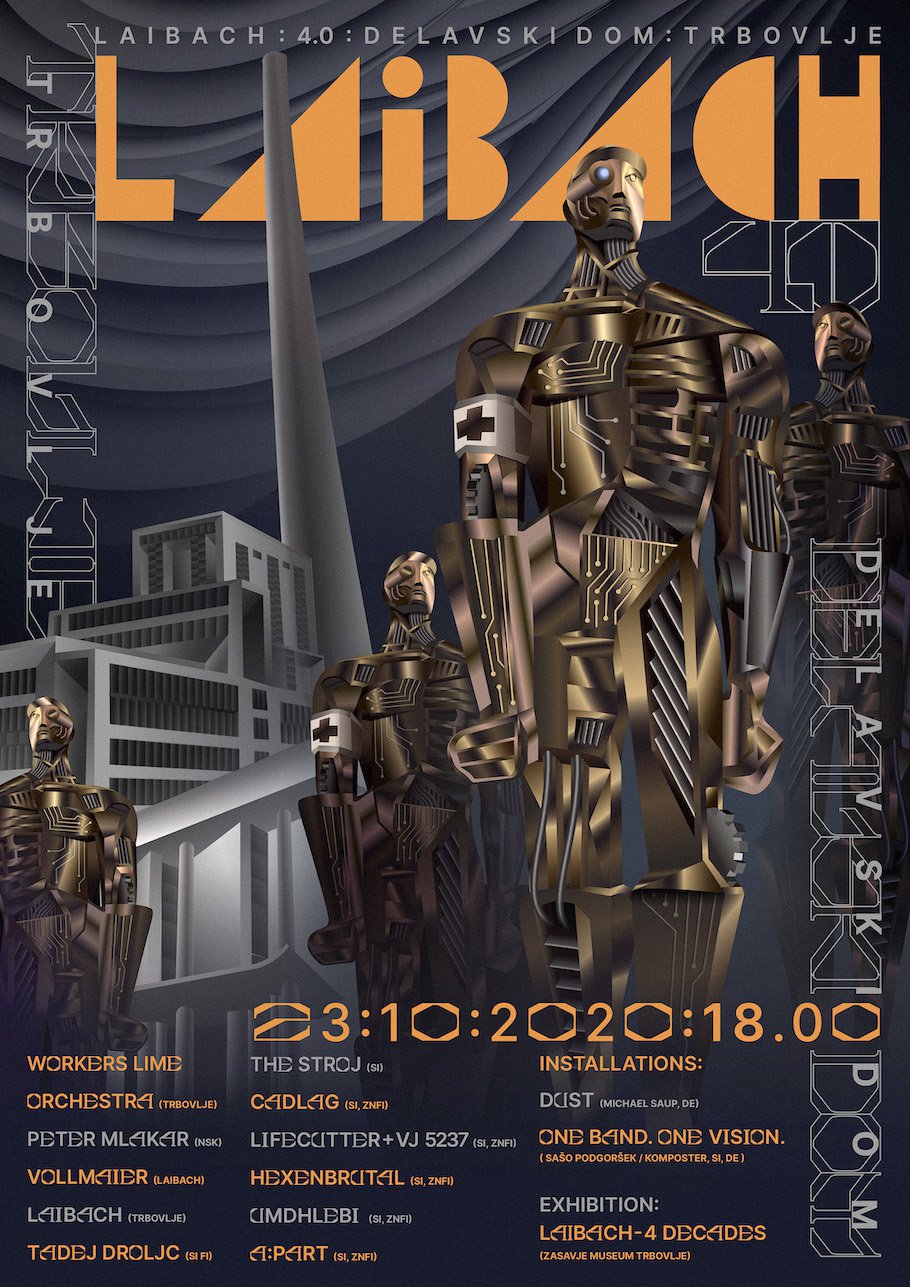 THE LAIBACH ANNIVERSARY PROGRAM IN DELAVSKI DOM TRBOVLJE
The program, created in collaboration with the Zasavje Noisefest International, has not been completely determined yet, but here is roughly what you can expect. Unfortunately, we had to cancel all the international acts that were originally scheduled to participate; instead, we will be presenting some incredible acts from Slovenia (and Croatia). 
20.00 Delavska godba Trbovlje (Trbovlje Lime Orchestra - performing classic military and workers' marches)
20.20 His holiness, Peter Mlakar's speech to the people of Trbovlje and all Laibach  followers around the World
20.30 Vollmaier - "Kind of Laibach" (solo performance on grand piano)
21.20 Laibach- "We Are Forging the Future" (reconstruction of the early Laibach sound & shows, with additional material from selected albums)
22.30 Tadej Droljc - "Beambreaker", the premiere of a new, extended version of this intense 'neo-industrial' work for laser, light, bent mirrors, and sound.
23.30 The Stroj - "Metal Machine Music" from Slovenia 
00.30 Cadlag - (drone noise, VHS, SI) Zasavje Noisefest International
02.20 Umdhlebi - (drone, SI) Zasavje Noisefest Int. 
03.00 Lifecutter - (dark experimental techno, SI) Zasavje Noisefest Int. 
03.40 Mary - (Art & Strategy DJ Set, Zagreb, CRO) Zasavje Noisefest Int. 
For those of you who will be in Slovenia at the time of this event, you will also be able to attend the following exhibitions connected to Laibach: 
'Liberty Leading the People' – an exhibition of selected Laibach posters and videos in Gallery S at Ljubljana Castle. The exhibition will run until 31 January 2021 
'Austellung! Laibach Kunst: RE:CONS:TRUCT' – a reconstruction of Laibach exhibitions from 1982 and 1983, at P74 Gallery, Ljubljana, open between 21 September – 2 November 
'4 Decades' – archival exhibition on 40 years of Laibach, ZMT – Zasavje Museum Trbovlje, opening on 22 October 
'One Band. One Vision.' Exhibition of Laibach Landscapes (in collaboration with Komposter & Sašo Podgoršek), Delavski Dom Trbovlje, open from 16 October