From October 11th to 14th, le Ciné-Club de Grenoble, in partnership with Association pour l'Agencement des Activités and Unpass, invite you to the NSK Rendez-Vous Grenoble, the quirkyfestival which pays tribute to the NSK movement.
Influenced by DADA, historical avant-garde and punk movements, NSK questions art, politics and propaganda through artistic subversion. NSK is still a major source of inspiration and study on contemporary society. A driving force of creativity and provocation, NSK gives a clear portrait of modern Europe.
After its initial success in 2016, NSK Rendez-Vous Grenoble comes back to share unique moments and activities with exciting international artists.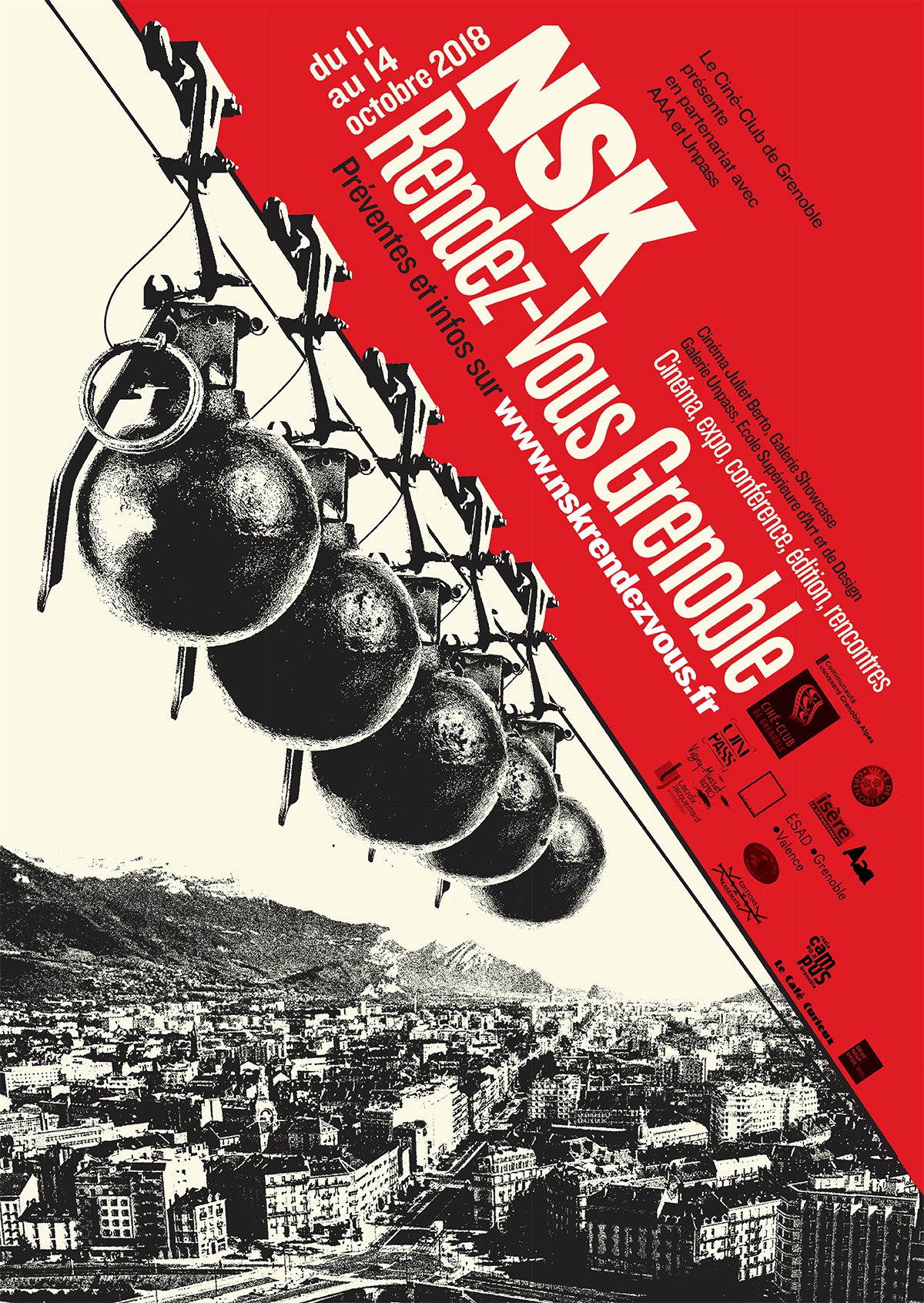 PROGRAM
October 11th Free entrance
6:00 pm: IRWIN: 35 years, conference by Andrej Savski (IRWIN/Slovenia) at Grenoble School of Fine Arts (ESAD – Grenoble)
8:00 pm: IRWIN presents books on NSK State in Time
Opening of IRWIN's exhibition at the Galerie Showcase
In the presence of Andrej Savski
October 12th
6:30 pm: Liberation Days – Valnoir (France)
Opening of Valnoir's exhibition at Galerie Unpass In the presence of the artist. New exhibition of works and graphics for Laibach's show in Pyongyang, DPRK, in August 2015
October 13th
8:00 pm: Liberation Day at the Cinéma Juliet Berto. A film by Morten Traavik and Ugis Olte, Norway/Latvia, 2016. In the presence one of the filmmakers, Ugis Olte (Latvia). Screening followed by Q/A
October 14th
Noon: brunch at the Maison de l'International de Grenoble. Meet-and-greet with the guests
Screening of Sarajevo: State in Time, a film by Benjamin Jung and Theo Meurisse, in a non-definitive version.
The brunch is only accessible with the NSK Rendez-Vous Grenoble Pass, obtainable on the website: nsk.ccc-grenoble.fr
Every activity is in English, translated into French.
Passes giving access to all activities are available on the website ("NSK Rendez-Vous Grenoble Pass").
The NSK Rendez-Vous Grenoble Pass includes:
entrance for Valnoir's exhibition
entrance for the Liberation Day screening
entrance to the brunch
Editions Kasemate special edition NSK Rendez-Vous Grenoble, a 48-page handmade book full of French translations of texts on the NSK and manifestoes by IRWIN, New Collectivism and Department of Pure and Applied Philosophy
the NSK Rendez-Vous Grenoble poster signed by Valnoir
NSK RDV Grenoble Pass is limited to 50.