The construction of the KSEVT (Cultural Centre of European Space Technologies) building is now finished. Today, 6th September at 20.30, is the opening ceremony. The visitors will view the first permanent exhibition of KSEVT entitled Herman Potočnik Noordung: 100 Monumental Influences. The main part of the ceremony will be featuring the group CodAct and their artwork Pendulum Choir.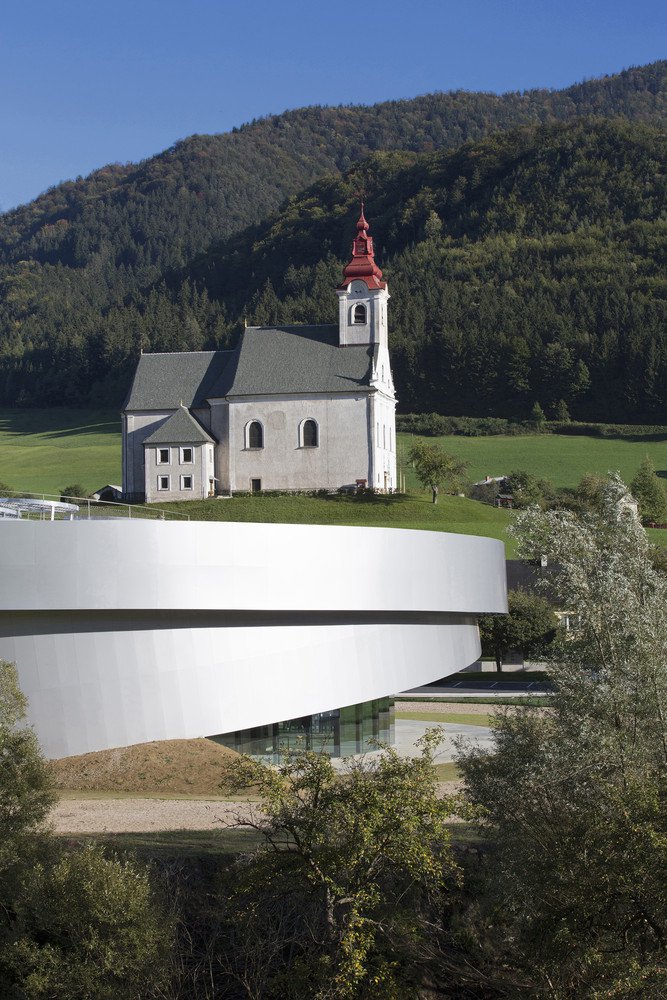 Cultural Centre of European Space Technologies (KSEVT) was established in 2010 for a methodological understanding of culture, arts and humanities in outer space.
The Cultural Center of European Space Technologies (KSEVT) will substantially supplement and emphasize the local cultural and social activities of the former Community Center in Vitanje, the town in Slovenia that was family home to Herman Potocnik Noordung, the first theoretician of space. The program includes additional cultural (exhibitions, events) and scientific activities (research, conferences) strongly connected to the phenomena of 'culturalisation of the space'. The building features a series of interlocking rings that lie on top of each other to create a continuous ramped structure. The design integrates two buildings in one: a local community centre with a circular multi-purpose hall and local library and the museum of Space technologies with its exhibition and research areas. KSEVT will have a public significance and generate social, cultural, and scientific activities, with fixed and temporary exhibitions, conferences and club/study activities.
The building design is the work of four architectural bureaus which established the Architectural Union for Vitanje (AZZV): Bevk Perović Arhitekti, Dekleva Gregorič Arhitekti, Ofis Arhitekti, and SADAR + VUGA Architects.