"Pop music is for sheep and we are shepherds disguised as wolves" Laibach
VOLK is a collection of interpretations of national anthems and beside others it also includes the transnational anthem of NSK State in time. All other tracks are based on and inspired by original anthems. The opening track, Germania uses Das Lied der Deutschen, originally written in 1797 and used after World War I as the national anthem of the German Empire at the time of the Weimar Republic, while the single, Anglia, uses John Bull's God Save the Queen/King as its inspiration. The tracks are mostly sung in English but each song has a guest singer, often singing in his national language.
Laibach created this record in collaboration with Boris Benko and Primož Hladnik – both members of Ljubljana music group Silence and they co-produced and co-write the project. Boris Benko also created vocal interpretations and arrangements on several songs.
The album is released as a standard CD with 16 page booklet with lyrics and illustrations and also in a limited edition hardback book format with watercolour artwork by Laibach in a 32 page booklet with sleeve notes explaining each track.
Premiere concerts
Three premiere concerts will be given in Delavski Dom, Trbovlje - Slovenia, plus a Laibach Kunst Inhibition - Instrumentality of the State Machine.
Track listing
"Germania" – based on "Das Lied der Deutschen" (Germany)
"America" – based on "The Star-Spangled Banner" (United States)
"Anglia" – based on "God Save the Queen" (United Kingdom)
"Rossiya" – based on the State Anthem of the Soviet Union, post-2000 "National Anthem of Russia" (Russia), and "The Internationale"
"Francia" – based on "La Marseillaise" (France)
"Italia" – based on "Il Canto degli Italiani" (Italy)
"España" – based on "Marcha Real" (music) and "El Himno de Riego" (lyrics) (Spain)
"Yisra'el" – based on "Hatikvah" (Israel) and "Fida'i" (Palestine)
"Türkiye" – based on "İstiklâl Marşı" (Turkey)
"Zhonghuá" – based on "March of the Volunteers" (People's Republic of China)
"Nippon" – based on "Kimi ga Yo" (Japan)
"Slovania" – based on "Hey, Slavs" (anthem of the former Socialist Federal Republic of Yugoslavia and unofficial anthem of Pan-Slavism)
"Vaticanae" – based on "Inno e Marcia Pontificale" (Vatican City)
"NSK" – the anthem of Neue Slowenische Kunst, also known as "The Great Seal"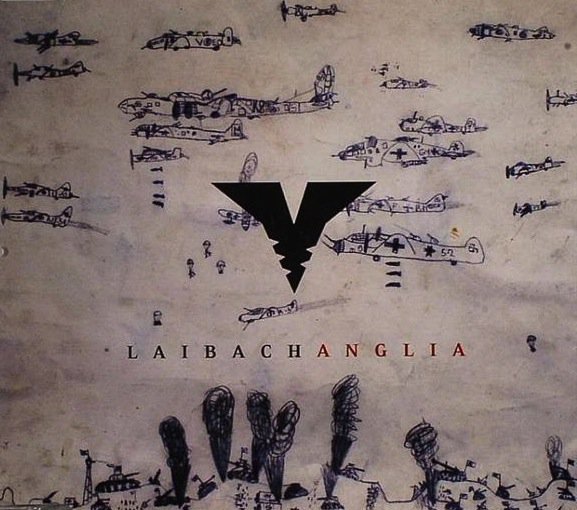 Volk Single "ANGLIA"
CD SINGLE TRACKLISTING:
Λaibach once said that "tus Mix
3. Anglia Crushed Mix
4. España
5. España – El Toreador Mix