Laibach announced the opening of a large-scale Laibach exhibition in Muzeum Sztuki in Łodz (Poland), on May 26th 2009.
Ausstellung Laibach Kunst – Recapitulation 2009 focus on the visual phenomenon of Laibach. The group which has mainly been linked to the field of popular music in the public consciousness is to be reconsidered as a unique project uniting various media.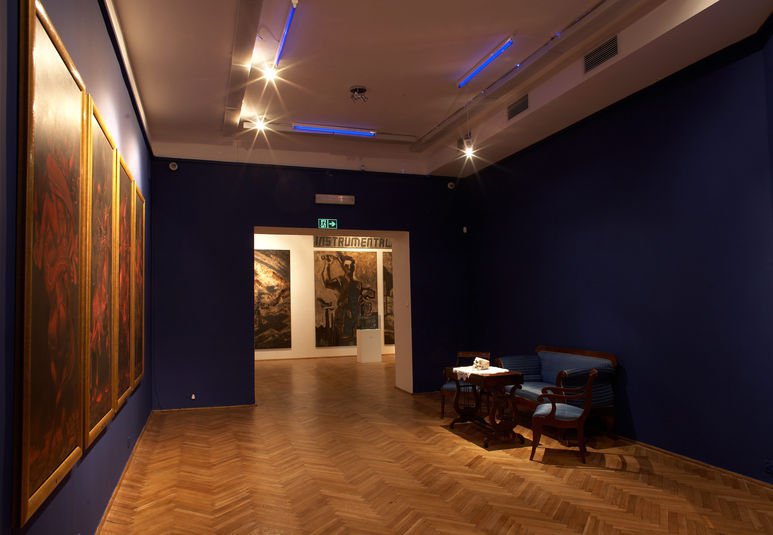 Laibach was always a multi-dimensional, multi-medial project, breaking traditional boundaries between diverse disciplines. The exhibition tryes to establish a new view to the variety of Laibach visual activities in the framework of the Laibach Gesamtkunstwerk.
The current exhibition discovers and displays some of the oldest motifs of Laibach Kunst, reinterpreted by the group. Uncovering the elemental and the brand new in various media and techniques Laibach unveil the paraphernalia of their vivid history: classic large scale paintings, graphics, posters, installations and videos. A major part of the works will be shown for the first time in this form.
Ausstellung Laibach Kunst – Recapitulation 2009 is based on the strategy of confronting archival material with recently created pieces. This exhibition will thus not function along the lines of a typical retrospective. Laibach is an active entity in permanent critique / dialogue with the current reality. The opening will be highlighted by a short sound performance by the members of Laibach themselves.
A programme of special exhibition talks, guided tours by the curators, screenings and video shows as well as a series of lectures has been organized to complement the exhibition.
The day after the opening of exhibition Laibach will also perform the LAIBACHKUNSTDERFUGE program in the Filharmonia Łódzka im. Artura Rubinsteina.
The exhibition will last until August 23rd.